Metal Roofing: Consider A Long-Lasting Metal Roof For Your Katy Property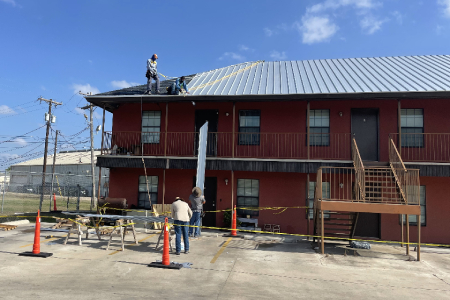 The honest reliable roofing contractor for Katy you can trust for quality metal roofing installation is All Around Roofing LLC. We offer the best products and the highest level of professionalism when it comes to installing metal roofing for your Katy home, and All Around Roofing LLC is here to assist you with all of your roofing needs.
Metal roofing is durable, energy-efficient, and has a lasting lifespan that sets it apart as a quality roofing material. We offer high-performance underlayment options to a multitude of design options that include basic exposed seam panels, aesthetically pleasing metal shingles, and premium preferred metal roofing from leading manufacturers.
We're proud to serve Katy and the surrounding areas from Giddings to Hempstead to Sugar Land with expert metal roofing installation, roof repair, and roof inspections. We offer discounts for military and veterans, at All Around Roofing LLC, just one of the many reasons your friends and neighbors love us! To request a free quote for metal roofing in the Katy area, use our online form or give us a call today at 832-691-5313 to speak to one of the friendly professionals at All Around Roofing LLC. Be sure to ask about our customer referral program!
Metal Roof Installation Benefits
Metal roofing is a highly-popular option when you're looking for a new roof installation for your Katy property. Metal roof installation offers a number of benefits, including:
Long-lasting - metal roofs outlast traditional asphalt roofing materials by more than twice the lifespan
Durable - metal roofs are impact resistant and resist wind gusts, corrosion, and cracks
Safe - metal roofing offers fire resistance and will not ignite due to wildfires or lightning strikes
Energy efficient - metal roofing can result in a 10-25% reduction in cooling costs
Eco-friendly - metal roofs are 100% recyclable at the end of their lifespan
Our metal roofing installation professionals install high-quality metal roofing systems from leading manufacturers to give you the Katy home of your dreams.
The Katy Roofing Contractor You Can Rely On
All Around Roofing LLC is the knowledgeable roofing contractor serving Katy and the surrounding communities that you can rely on for honest, professional, quality workmanship. We offer a wide array of roofing and exterior home services that include:
Roof replacement & new roof installation
Residential re-roofing & roofing insurance claims
Roof maintenance & roof repairs
Roof & attic inspection
Hardie siding installation
Gutter replacement
Whether you want a durable metal roof for your farm near Fulshear, stylish composite roofing for your home in Brenham, or high-performance Hardie siding for your property in Eagle Lake, All Around Roofing LLC has you covered. Why choose All Around Roofing LLC? Because your neighbors love us!
Schedule Your Roofing Services Today!