Gutter Replacement By Well-Trained Katy Gutter Installers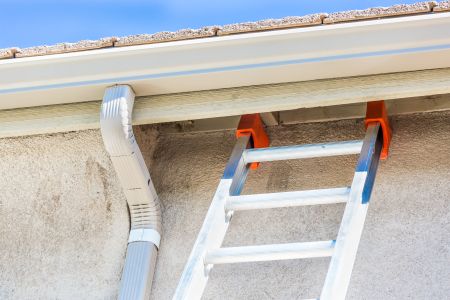 If you've been looking for expert gutter replacement performed by well-trained gutter installers for your property in the Katy area, the pros at All Around Roofing LLC have you covered. Our gutter replacement experts install high-quality customized gutter systems with materials from leading industry manufacturers to protect your home and landscaping while blending seamlessly with the design of your Katy home. At All Around Roofing LLC, we offer a variety of design and finish options to compliment your Katy home and our gutter replacement professionals always perform workmanship of the highest caliber so that your gutter system will stand the test of time. To request a fee quote for gutter replacement, new gutter installation, or other exterior home services for your property in Katy, Giddings, Sugar Land, and the neighboring communities, use our online form or give us a call today at 832-691-5313 to speak to one of our friendly roofing specialists at All Around Roofing LLC. Don't forget to ask about our discounts for veterans and military personnel and our customer referral program!
New Gutters Installation To Protect Your Property's Foundation
Properly performing gutters not only protect your Katy home's foundation, but they can prevent erosion and preserve your landscaping plants and flower beds by directing water to flow away from your home. Replacing your existing gutters with a new gutter installation or adding gutter replacement to your roof replacement project will mitigate issues with breaches and pooling that can lead to mold, mildew, rot, and other water-related damage. With a variety of color, design, and layout options, our gutter replacement professionals can give you the home of your dreams - and keep your mind off of your gutters!
The Honest, Reliable Roofing Contractor Serving Katy
From expert roofing repairs to professional gutter replacement to quality Hardie siding installation, All Around Roofing LLC is the roofing contractor for Katy that your neighbors love for all of their home exterior needs. We offer a wide variety of professional roofing and exterior services that include:
Roof replacement & new roof installation
Hardie siding & fiber-cement siding installation
Gutter replacement & new gutter installation
Roof maintenance & roof repairs
Roof & attic inspections
Roofing insurance claims
Be sure to check out the Roof & Home Design Studio to create, download, and share images of the home of your dreams - you can even upload a photo of your own home to try on different roofing and siding options! Our roofing professionals are here to serve you for all of your needs. Give us a call today at 832-691-5313 or use our online form to request a free quote - and don't forget to ask about our discounted services for military and veterans and our customer referral program. Why choose All Around Roofing LLC? Because your friends and neighbors in the Katy area love us!
Schedule Your Roofing Services Today!