Hardie Siding: A Superior Cement Fiber Siding Replacement Option In Katy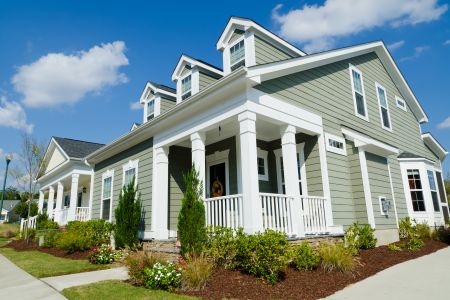 Make your Katy area home a dream-come-true with quality cement fiber siding replacement from the pros at All Around Roofing LLC, where we proudly install top-quality James Hardie Siding. All Around Roofing LLC is the reliable local roofing contractor for Katy and the surrounding areas that you can trust for quality Hardie siding installation, roof replacement, and more!
You've seen our signs around your Katy neighborhood, and you've seen the difference that durable and stylish Hardie siding has made for your neighbors' homes. Why choose All Around Roofing LLC and Hardie siding? Because your neighbors love us!
Hardie Board Siding: Top-Performance Cement Fiber Siding
Quality high-performance fiber cement products by James Hardie siding are engineered to stand the test of time, stand up to the Texas elements, and stand out in your Katy area neighborhood. Hardie siding is available in a variety of colors and styles to suit every type of home - from lap siding to shingle siding to our architectural collection, durable Hardie siding will give you the home of your dreams and the protection your family deserves.
The Hardie quality is available in applications for trim, backer board, pre-cut soffit panels, and more in colors that last and design options that will give your home a custom appeal. James Hardie invented fiber cement, and they remain committed to continually raising the bar to bring you the most beautiful, durable fiber cement products on the market.
An Expert Roofing Contractor For Your Katy Home
All Around Roofing LLC is the trusted Katy roofing contractor you can rely on for expert care for your home. We offer a wide array of roofing and exterior home services that include:
Roof & attic inspections
Roof maintenance plans
Roof repairs
Insurance claims for roofing
New roof installation & roof replacement
Hardie siding installation
Gutter replacement
All Around Roofing LLC offers the best products, including quality roofing materials and superior Hardie siding. We also offer the high caliber workmanship and the highest level of professionalism to assist you with all of your roofing and exterior service needs.
Whether you need a roof replacement for your ranch near Rosenburg, Hardie siding for your home in Hempstead, or gutter replacement over your garage in Giddings, the roofing specialists at All Around Roofing LLC have you covered. Use our online form to request a free quote for services in Katy and the neighboring communities, or give us a call today at 832-691-5313 to speak to one of our roofing professionals. Be sure to ask about our military and veteran discounts and our client referral program!
Schedule Your Roofing Services Today!