Reroofing Project in Brownsville, TX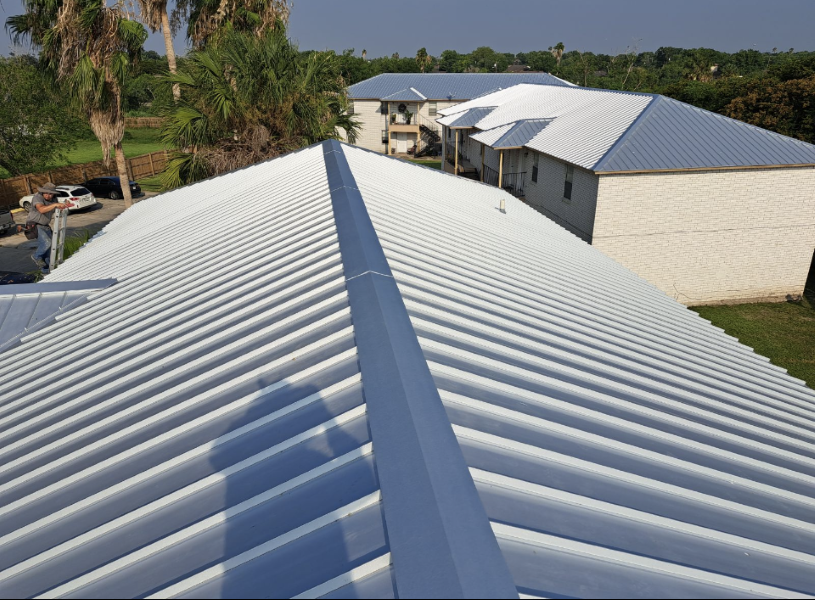 We recently completed a reroofing project in Brownsville, Texas that involved installing a brand new 16" Standing Seam Galvalume Metal Roof. The result was a striking transformation that made the property stand out among others in the area.
The Standing Seam Metal Roof not only provides exceptional durability and weather resistance but also adds a touch of elegance and modernity to the apartment complex. Its sleek design and high-quality Galvalume material ensure longevity and low maintenance for the property owner.
We understand the importance of curb appeal and the positive impact it can have on a property. The property owner expressed their satisfaction with the new roof, appreciating the enhanced visual appeal it brings to the entire apartment complex.
Our team of experienced professionals executed the reroofing project with precision and attention to detail, ensuring a seamless installation that exceeds industry standards. We take pride in delivering high-quality roofing solutions that not only enhance the aesthetics of a property but also provide long-lasting protection.
If you're considering a reroofing project or have any roofing needs in Brownsville, Texas, we are here to assist you. Contact us today for a consultation, and let us provide you with expert guidance and exceptional service tailored to your specific requirements.
Gallery
Products Used
Galvalume metal 24 gage
Schedule Your Roofing Services Today!